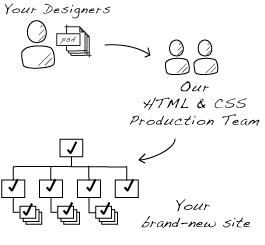 Do you have an in-house design team?  Already have an agency you're working with?  Looking for an HTML shop to turn your designs into reality?
We can help with web production and or  backend programming.
If you already have design resources and are looking for a crack team of HTML and CSS coders, we're ready for you.
Our flexible model allows us to fit seamlessly into an existing relationship.
We have experience:
Coordinating with and taking direction from an existing design team
Taking Photoshop, Illustrator files and producing them in clean, fast code.
Helping out with higher-level tasks like Information Architecture, visuals and graphics or just staying out of your way.